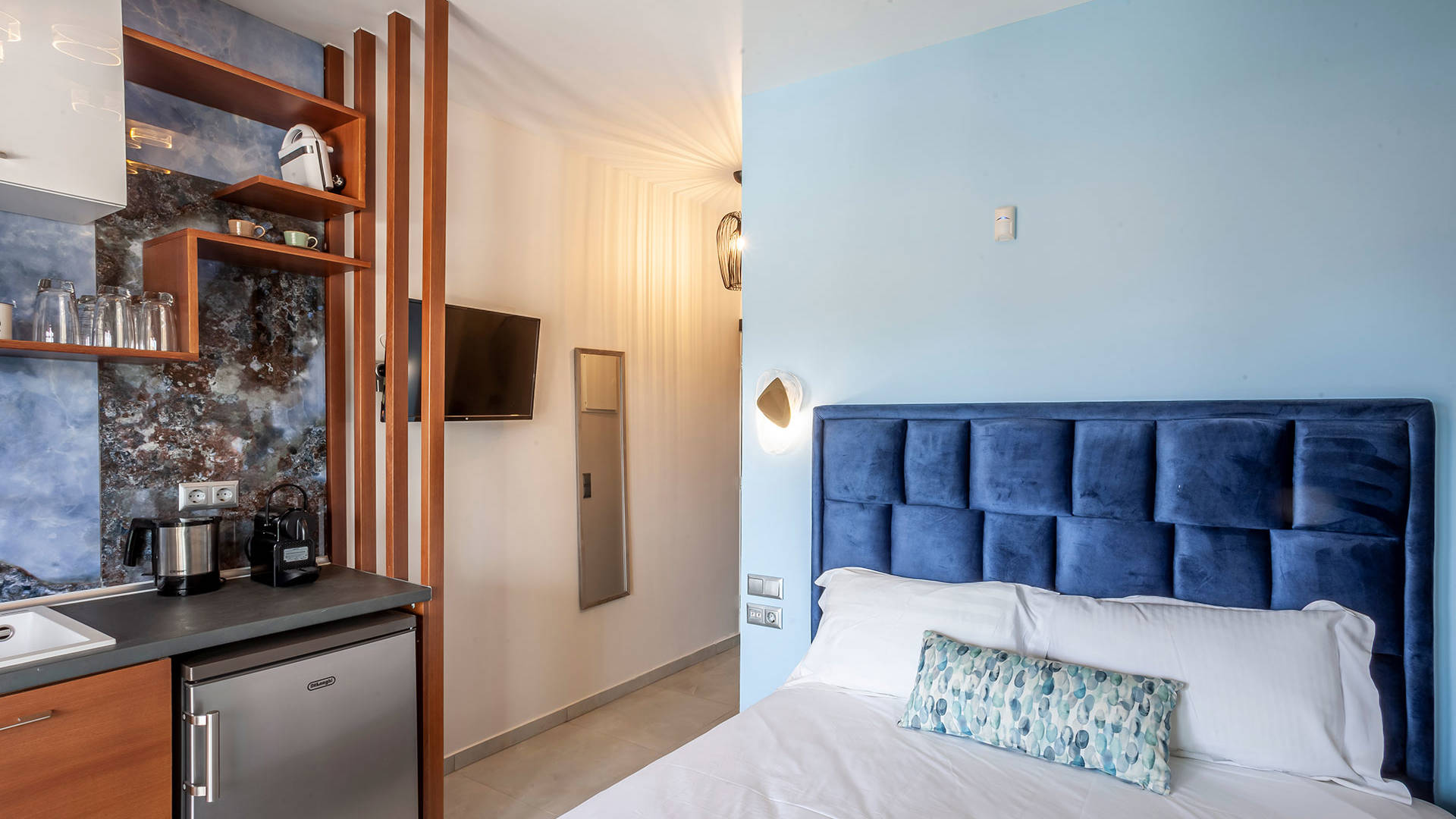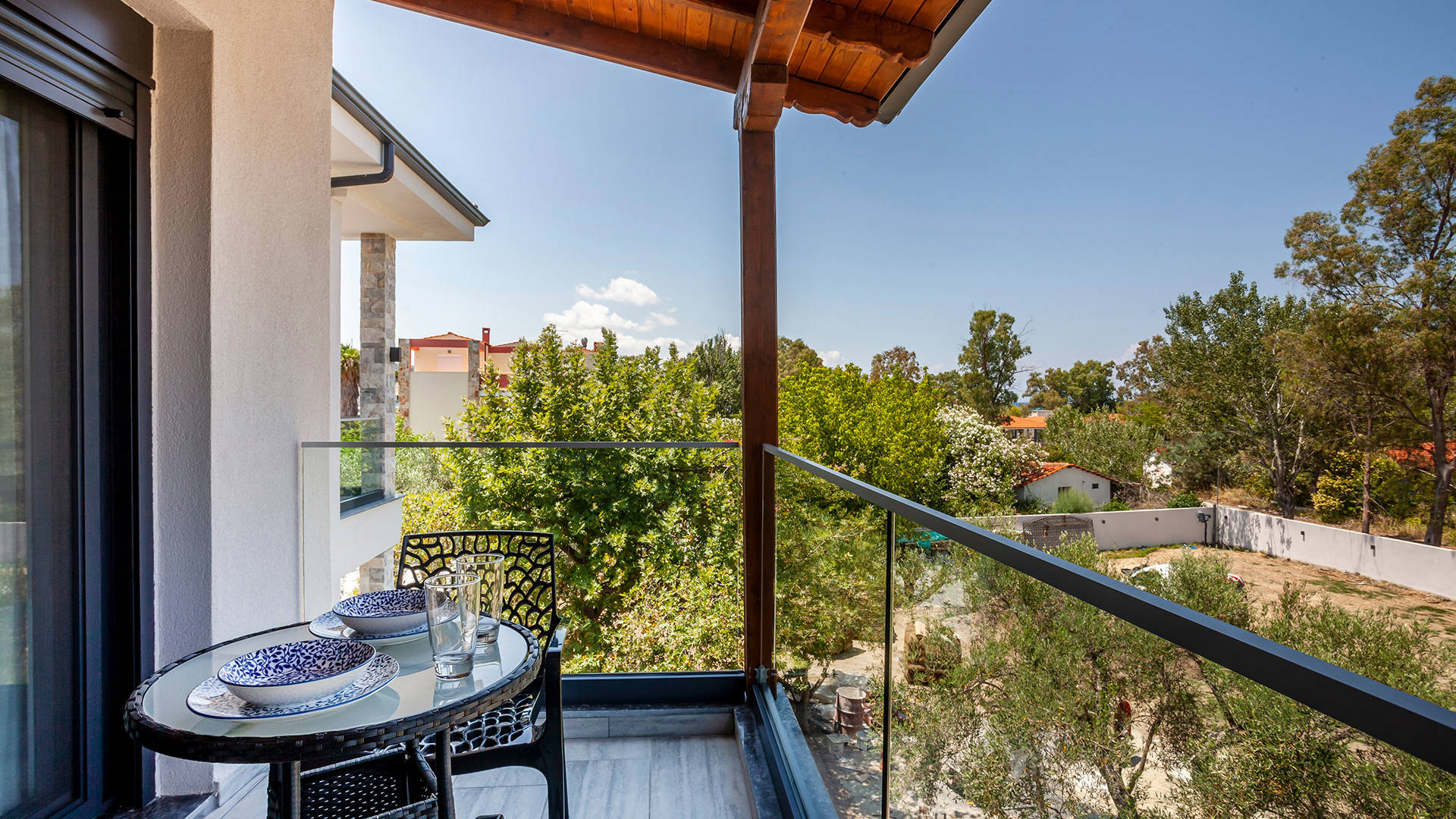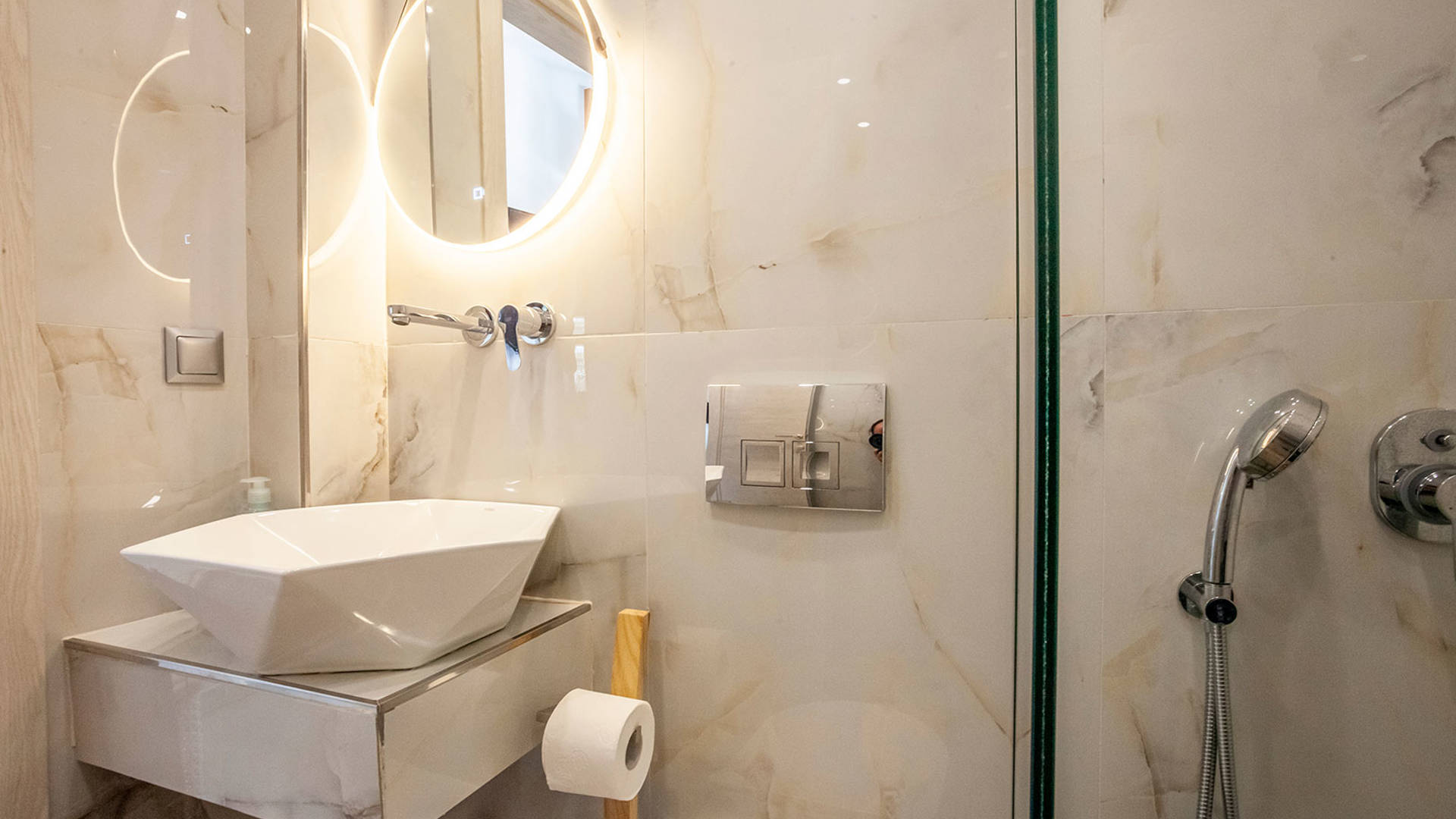 DOUBLE DELUXE APARTMENT
At Olia Seaside Residence you will find 3 Double Deluxe Apartments, CALYPSO, APHRODITE, SELENE. Fully furnished and equipped, with a private terrace that can comfortably accommodate a couple, they are located both on the first and second floor, as well as on the ground floor for those can't or don't want to use the stairs.
CHECK-IN POLICY
Check-in time: 4:00 p.m.
Check-out time: 11:00 a.m.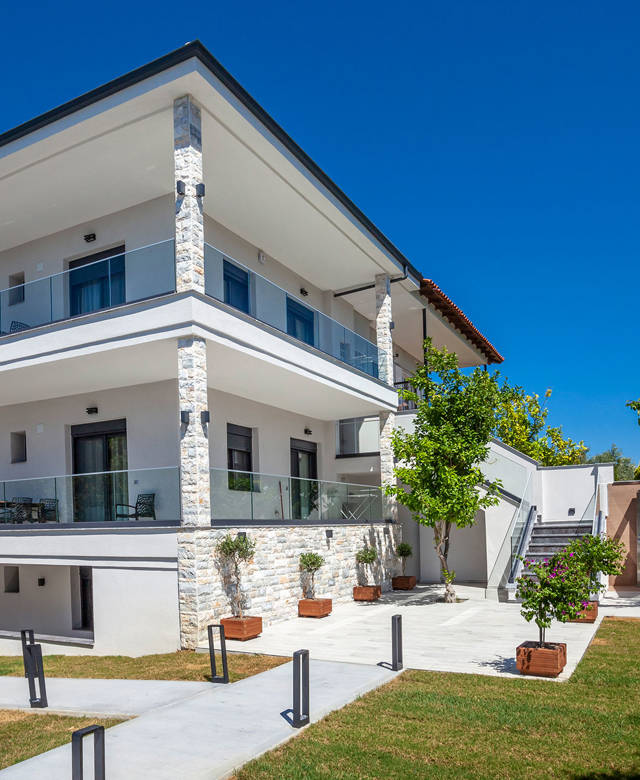 The Double Deluxe Apartments of Olia Seaside Residence are ideal for couples who wish to discover the cosmopolitan side of the first finger of Halkidiki. Only 100m from the sea and in a green landscape that offers privacy, guests can relax and enjoy their Pefkohori holidays to the fullest.
The best part is that at just a few minutes on foot you will find restaurants, supermarkets and some of the most popular beach bars of Halkidiki, so you can enjoy your stay to the fullest!
All rooms are non-smoking and there is also a fire protection and alarm system for your safety. Smoking is only allowed in the outdoor areas (garden, terrace, and balcony).
The Double Deluxe apartment located on the ground floor also features heating (radiators), making it the perfect accommodation all year round!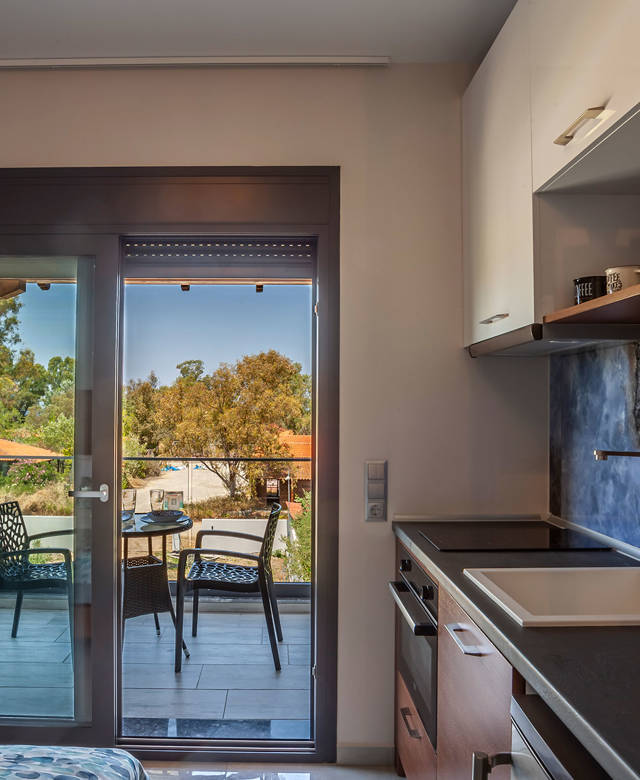 WHAT COMES WITH THE HOUSE
These luxury apartments in Halkidiki feature double soundproof windows with mosquito nets and electric shutters, a balcony with patio furniture, a bathroom with shower cabin, a small fully functional kitchen, as well as a private parking area (fenced, monitored throughout the day by security cameras). The apartments have a Smart TV with satellite channels as well as a double bed (160x200cm) with a Luxus mattress by Candia Strom for the ultimate sleeping experience.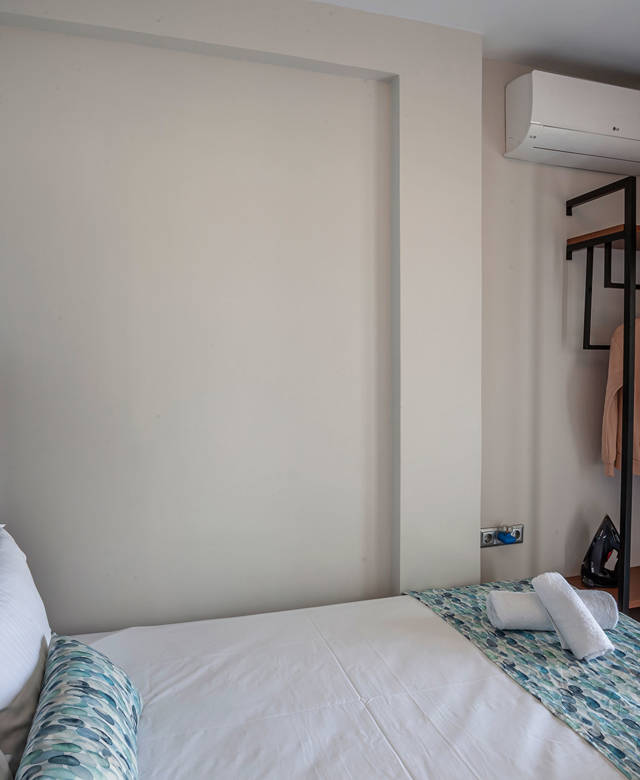 Calypso
According to Greek mythology, Calypso was the daughter of the titan Atlas. She was a beautiful nymph, known for healing every wounded hero, who ended up getting washed up on her island.
Today Calypso is known to be a nymph and goddess of the sea.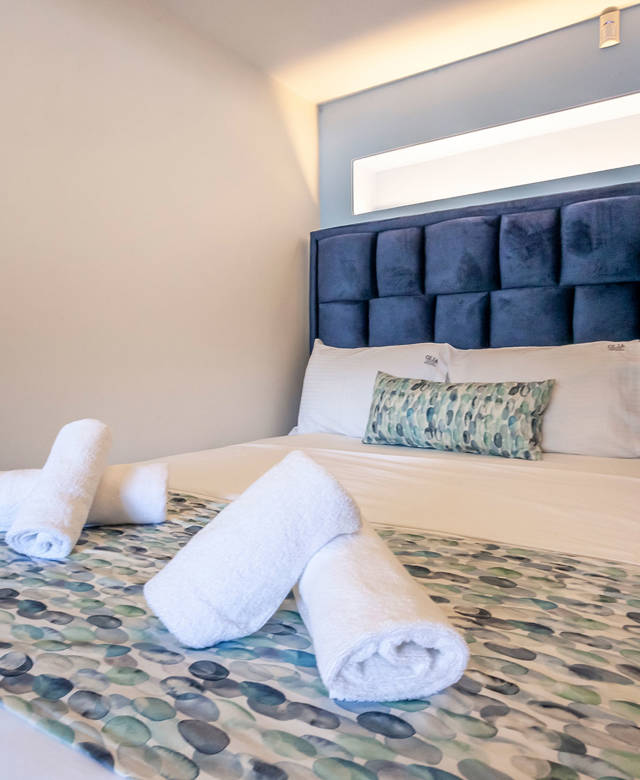 Aphrodite
In Greek mythology, Aphrodite was not born like most other gods and goddesses. She was born when a piece of flesh of the titan Uranus fell into the sea during a battle and she arose out of the sea foams. With her golden hair and the jewelry the Hesperides gave her, she was known to be so beautiful that the sun shone brighter, animals and creatures awaited for her arrival and tried to entertain her in every way they could. Wherever she would step, many fragrant flowers
would spring out in various colors and birds would sing sweeter than ever before. Even the gods of Olympus were stunned by her beauty and found her irresistible.
Today Aphrodite is known to be the goddess of eternal beauty and love, protecting every couple that is experiencing true love.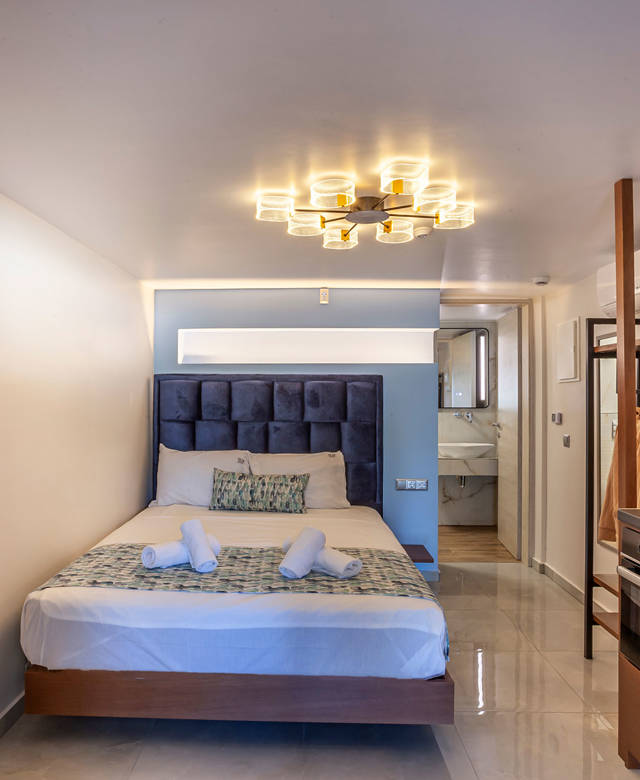 Selene
Selene was known to be a titan in Greek mythology. Every night night she would be driving a chariot up in sky, drawn by a pair of winged horses, to go visit her lover Endymion. A beautiful young man, who was granted immortality and eternal youth by Zeus, but was also placed in a infinite slumber in a cave near the peak of Mount Latmos. She would be always wearing a shining cloak and a full or crescent moon on her head as a crown.
Today she is known to be the goddess but also a personification of the moon.
AMENITIES
Fridge
Oven
Nespresso Machine For Coffee And Tea
Ceramic Hobs (Induction Hob)
Kettle
Toaster
Fraper Mixer
Microwave Oven
Washing Machine
Steam Iron With Ironing Board
Hairdryer
Closet
Mop
Hand Broom
First Aid Box
Fire Extinguisher
Fire Alarm
Electric Lock With Entry Card
Free Wi-Fi
Safe For 17″ Laptop
Air-conditioning in all rooms
Inverter And Radiator Heating
Full Hd Tv (Flat Screen)
Luxus Mattress By Candia Strom
Generator In Case Of Power Outage
Water Tank In Case Of Water Outage
Private Parking
Towels
Toilet paper
Drying rack for clothes
Garden furniture
Electric shutters
Mosquito nets
Whirlpool pool
Luxury sunbeds
Kitchenware
Satellite channels
Vending machine for drinks and snacks in the pool area
Queen-size bed with "Candia" luxury mattress (160 x 200 cm)