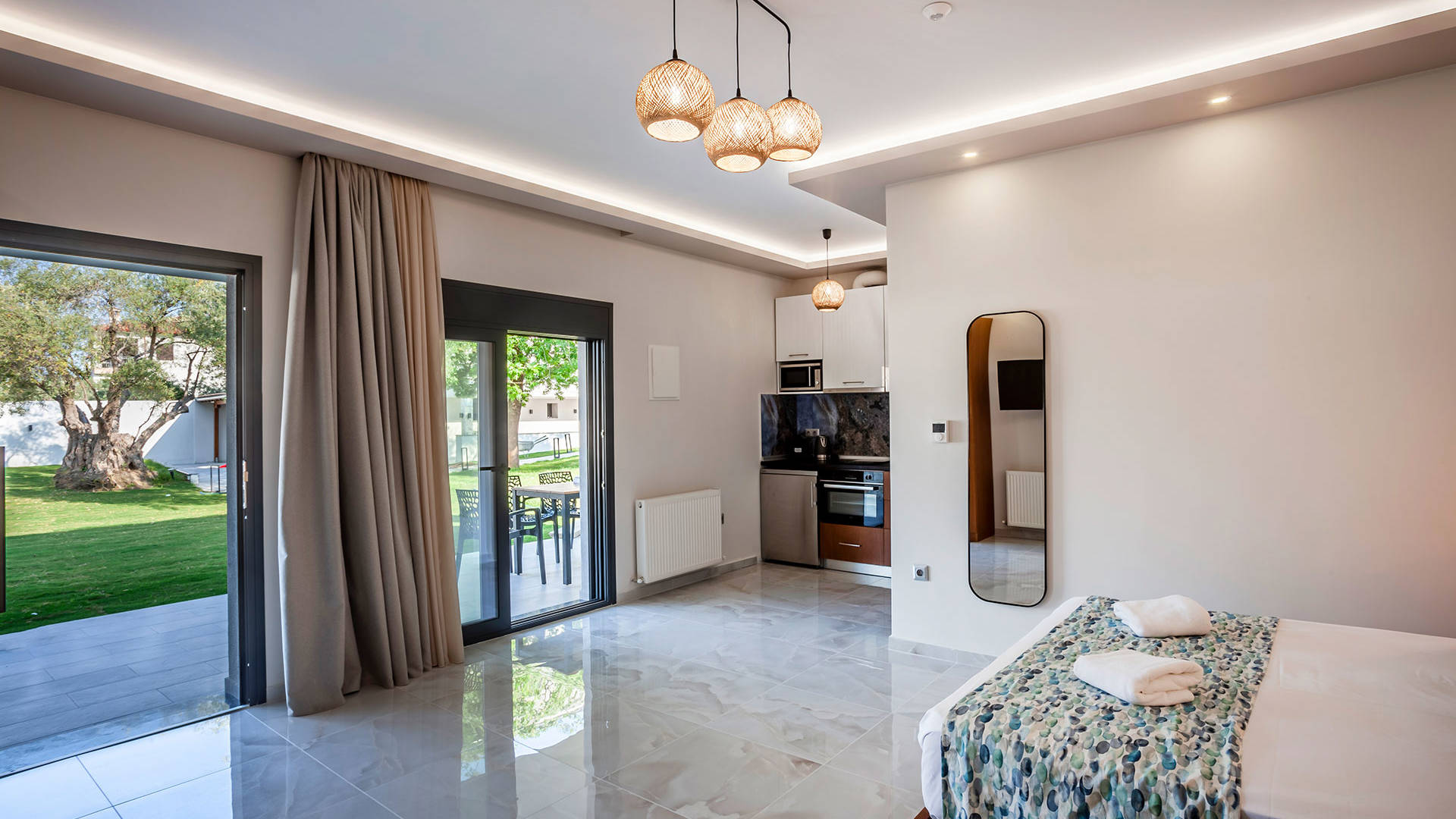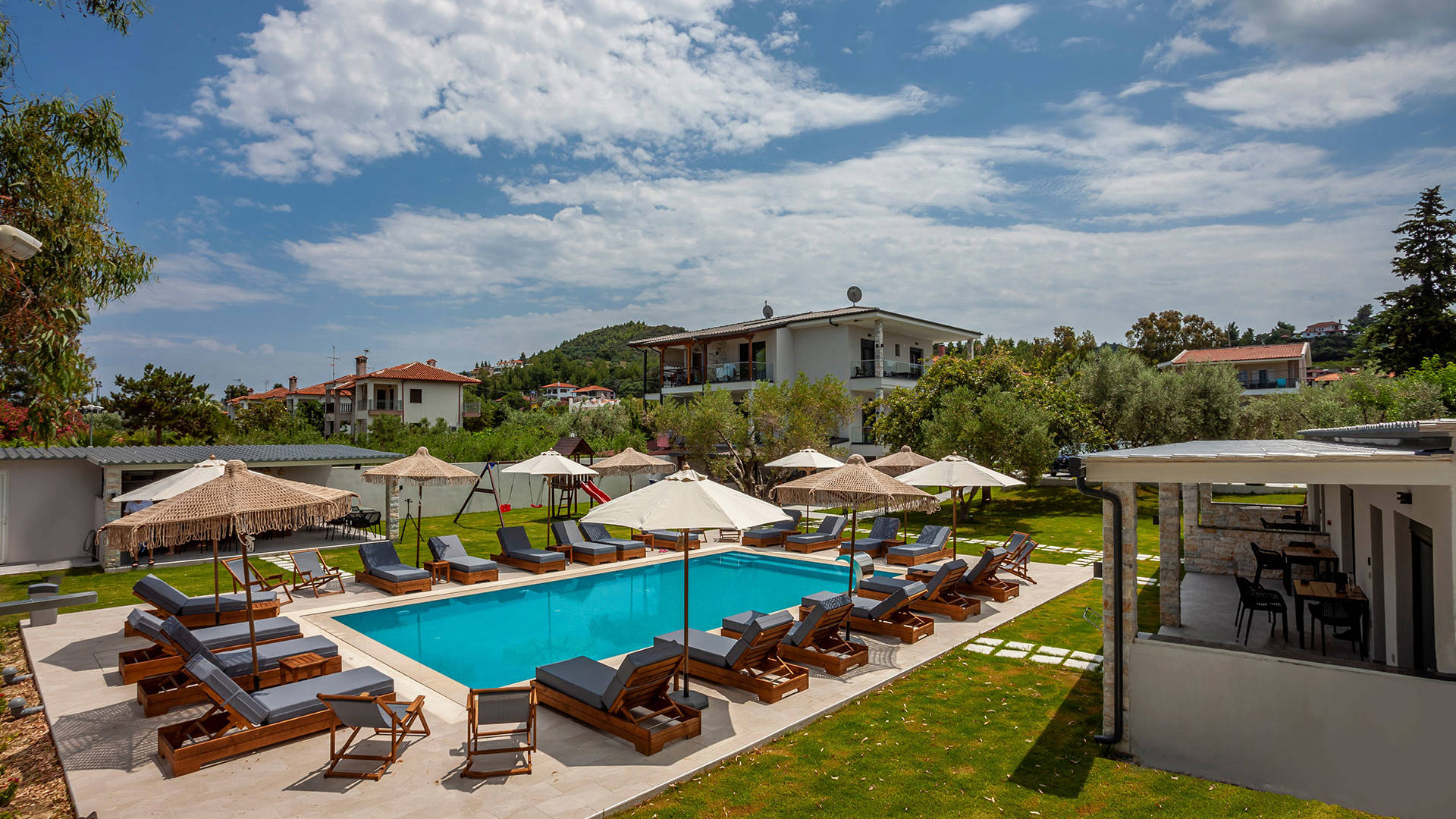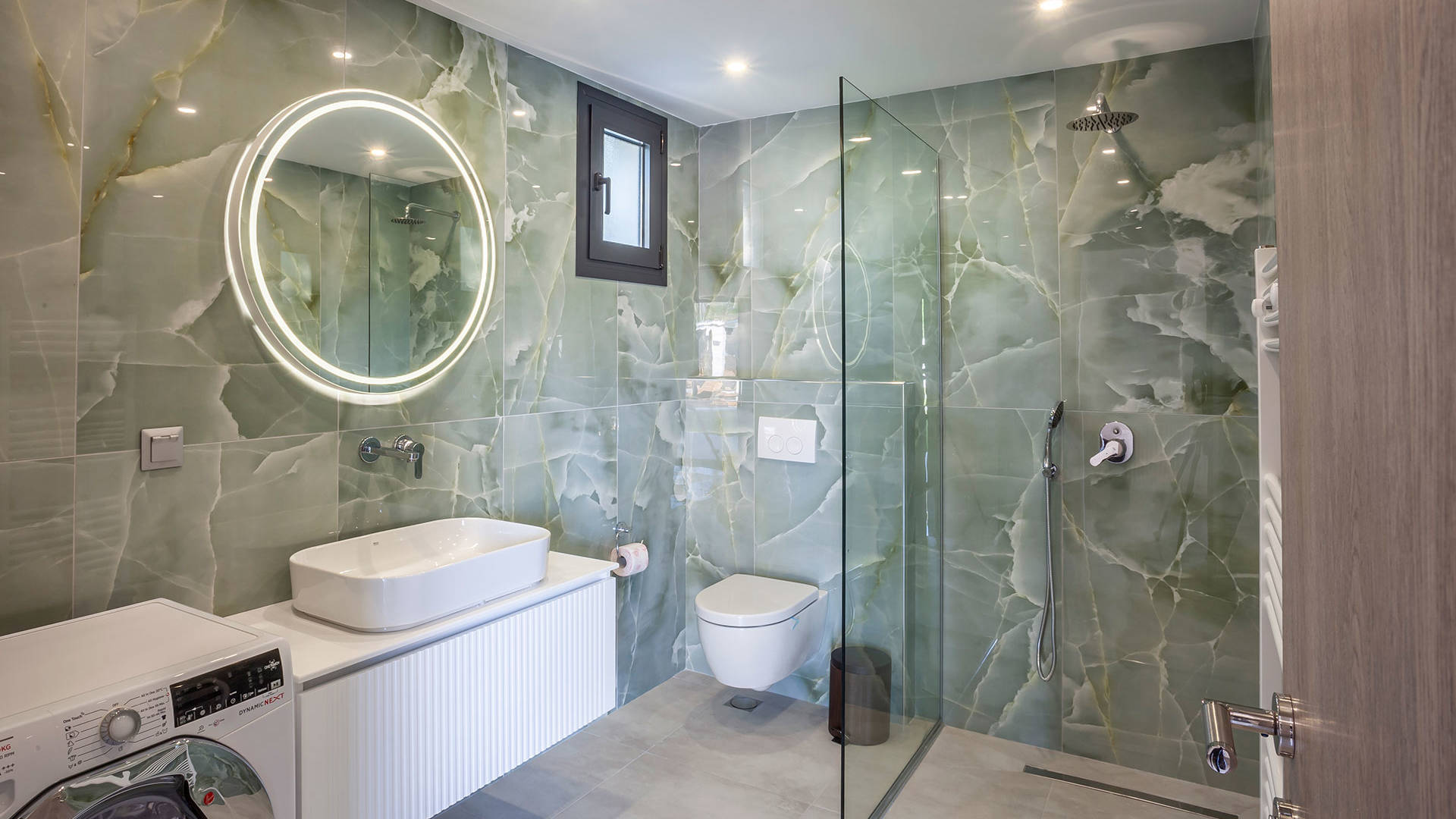 OLIA LUXURY SUITE
CAPACITY
Up to 4 guests
VIEW
Pool View
The Luxury Suites of Olia Seaside Residence offer luxurious accommodations amidst the idyllic nature of Halkidiki along with gorgeous pool views. A breath away from the beach (100 m), it is the perfect choice for visitors seeking to relax and unwind in the private setting of Pefkohori village. 
CHECK-IN POLICY
Check-in time: 4:00 p.m.
Check-out time: 11:00 a.m.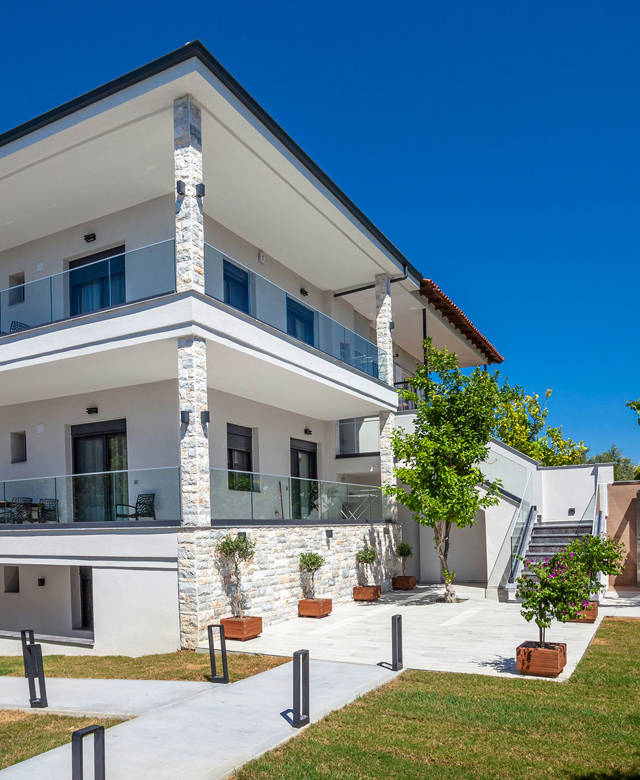 Indulge your senses in our comfortable interiors, providing all the modern comforts of home away from home with a fully equipped kitchen, a spacious bathroom, a bedroom, and a living room with a sofa bed, accommodating up to 4 guests. Our private verandah, decorated with outdoor furniture, lets brilliant light through from the pool for a cozy escape.
Restaurants, supermarkets, and a collection of Halkidiki's most popular beach bars, such as Elephant Beach Bar, are just a few minutes on foot, allowing you to make the most of your stay without missing any convenience.
We maintain a non-smoking protocol for our suites, along with a fire protection and alarm system for your safety. Smoking is allowed only in outdoor areas (garden, terrace, and balcony).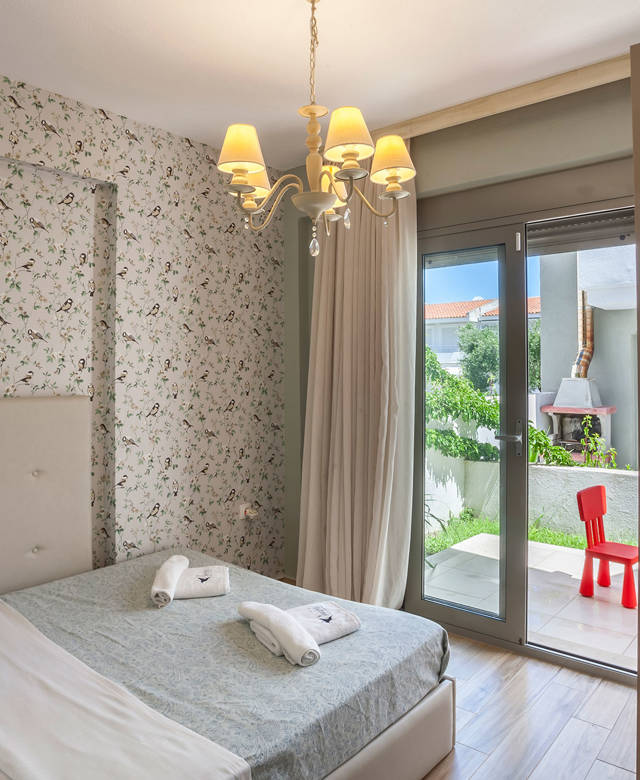 Harmonia
According Greek mythology Harmonia was the daughter of Aphrodite and Ares. She was awarded as a bride to Cadmus, for being the hero and founder of Thebes. All gods attended the wedding, including Hephaestus, who was seeking revenge on Aphrodite. He gifted Harmonia a cursed necklace, which doomed her descendants into endless tragedies. Seeking peace, the pair traveled to Illyria, where they fought numerous local tribes, in hopes to find a new kingdom to live.
Later, the gods helped them get to the Island of the Blessed, where the couple lived a happy ever after.
Today Harmonia is known to be the goddess of peace and harmony and is considered highly soothing for soldiers in war.
AMENITIES
Spacious private verandah with outdoor furniture and Pool View
Queen Bed with luxe Candia mattress (160 x 200 cm)
Sofa-Bed
Fully Equipped Kitchen
Refrigerator-Freezer
Oven with Ceramic Hobs
Microwave Oven
Kitchenware
Kettle
Toaster
Frappe mixer
Nespresso Coffee & Tea Machine
Steam Iron with Ironing Board
Hair dryer
Washing Machine
Drying rack
40" Full HD Smart TV (Flat Screen)
Electric Roller Shutters
Triple Pane Windows
Mosquito net
Air-conditioning in all rooms
Free Wi-Fi Internet
Closets with Clothing Hangers
Emergency & Fire Alarm
Fire Extinguisher
First Aid Box
Safe for 17″ Laptop
Hand Broom & Mop
Inverter & Radiator Heating
Electric Lock with Entry Card
Towels
Toilet paper
Drying rack for clothes
Garden furniture
Electric shutters
Mosquito nets
Whirlpool pool
Luxury sunbeds
Kitchenware
Satellite channels
Vending machine for drinks and snacks in the pool area
Queen-size bed with "Candia" luxury mattress (160 x 200 cm)