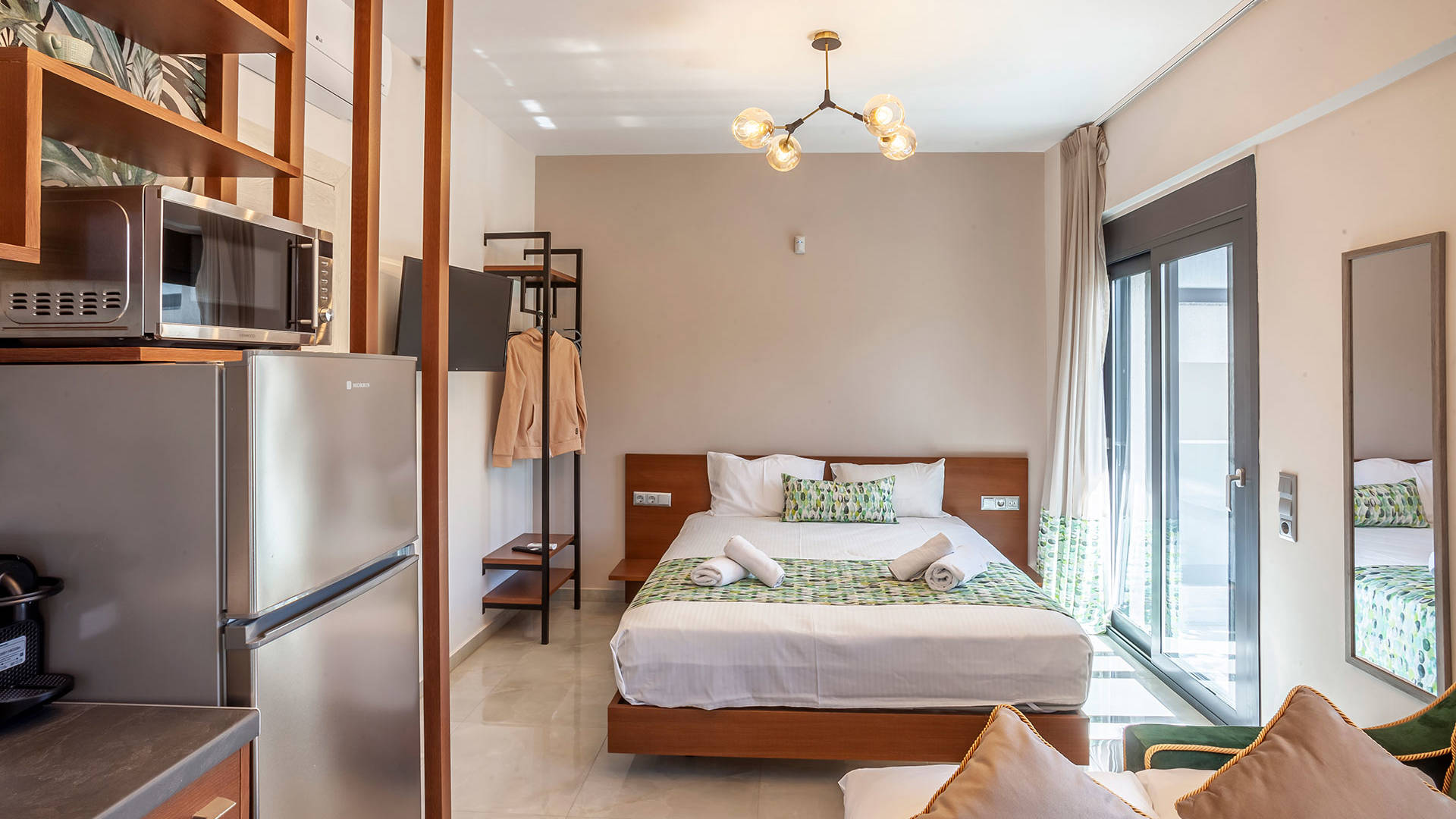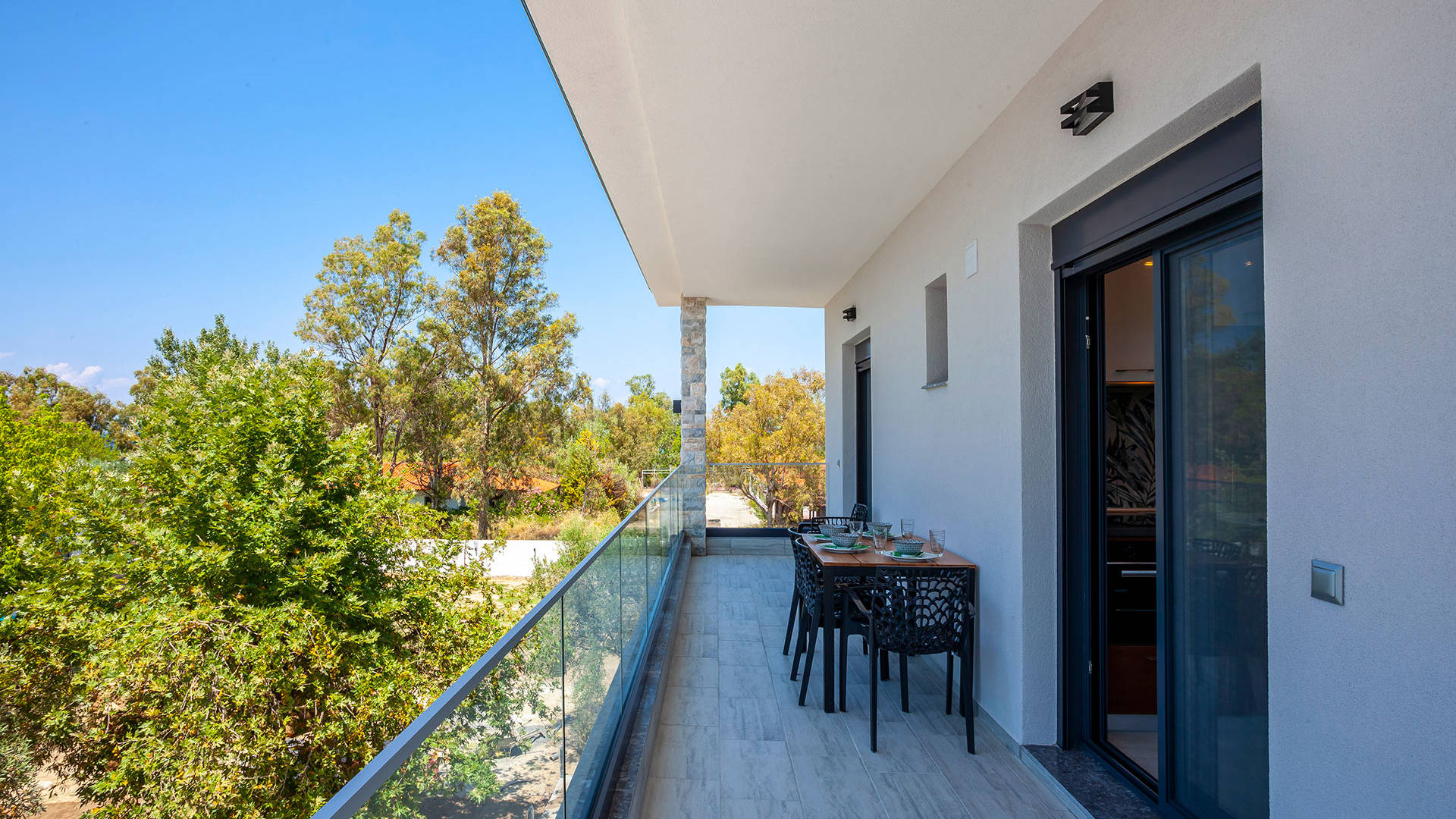 FAMILY SUITE APARTMENT
At Olia Seaside Residence you will find 2 Family Suite Apartments. These are fully furnished and equipped apartments that can accommodate up to 6 people as they have 2 double beds and a sofa bed. You will find them on the first and second floor, featuring a private balcony with a magnificent view!
CHECK-IN POLICY
Check-in time: 4:00 p.m.
Check-out time: 11:00 a.m.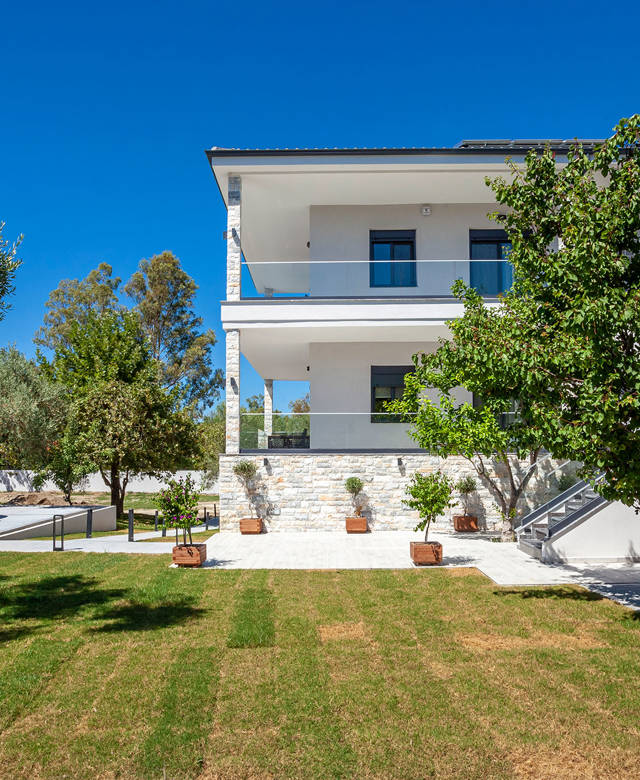 The Family Suite Apartments of Olia Seaside Residence are ideal for families and groups of friends who want to experience the Greek summer to the fullest by staying in apartments in front of the sea! Just 100m from the water and immersed in a beautiful setting that offers privacy, guests can relax and enjoy their Pefkohori accommodation.
For those who prefer getting around without a car, Olia Seaside Residence is ideal: supermarkets, cafes, and restaurants as well as some of Halkidiki's most famous Beach Bars, such as Elephant, are within walking distance.
All rooms are non-smoking and there is also a fire protection and alarm system for your safety. Smoking is only allowed in the outdoor areas (garden, terrace, and balcony).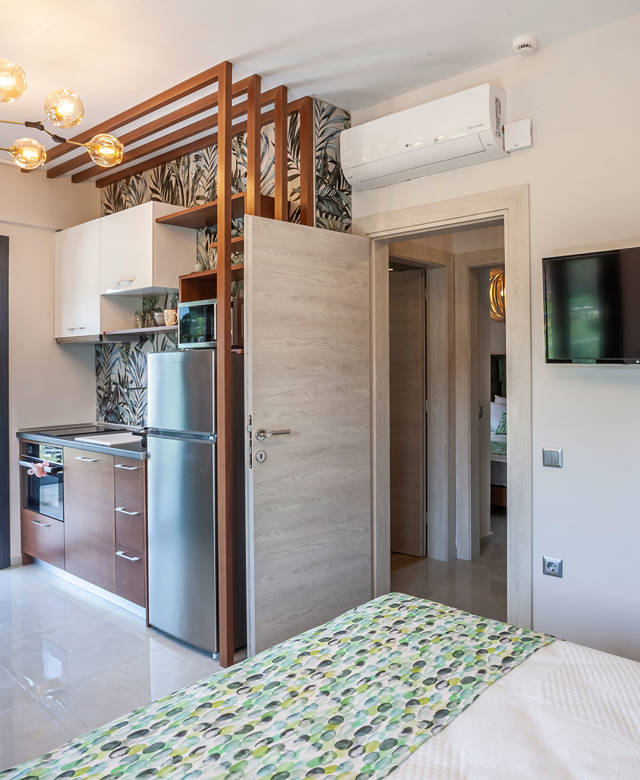 WHAT COMES WITH THE HOUSE
These luxury apartments in Halkidiki feature double soundproof windows with mosquito nets and electric shutters, a balcony with patio furniture, a bathroom with shower cabin, a small fully functional kitchen, as well as a private parking area (fenced, monitored throughout the day by security cameras). The apartments have a Smart TV with satellite channels as well as a double bed (160x200cm) with a Luxus mattress by Candia Strom for the ultimate sleeping experience.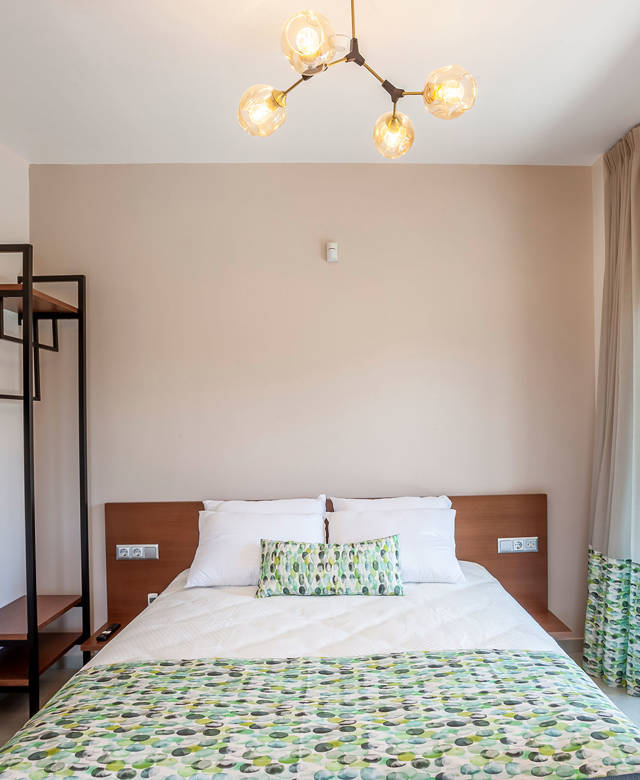 Hestia
Ιn Greek mythology Hestia was the oldest daughter of the king and queen of the titans Cronus and Rhea. Despite being a humble goddess, she was loved most among humans and had a share of every sacrifice for any god dedicated to her. In return she would protect the houses and families of those who loved her and make sure they had daily a meal on their table.
Today Hestia is considered to be the goddess of family and home.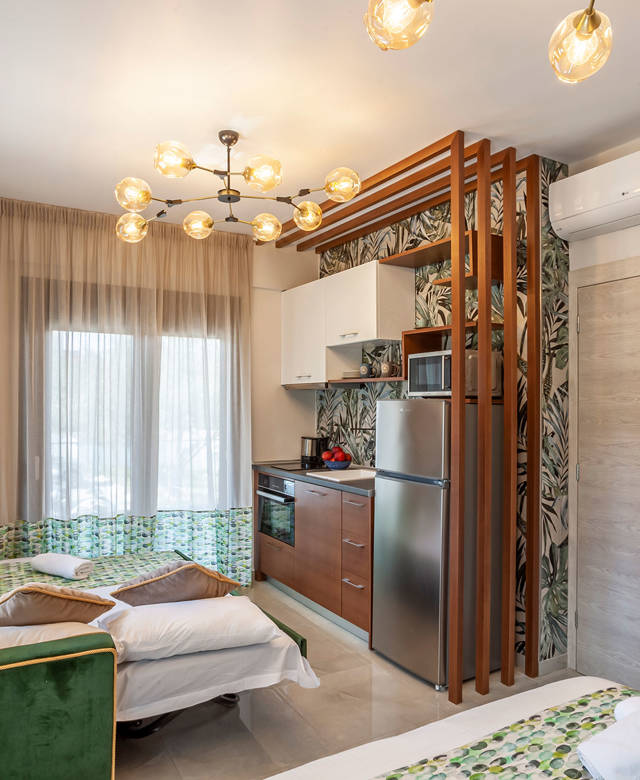 Hera
Hera was, according to Greek mythology, the daughter of the king and queen of the titans Cronus and Rhea. In a desperate try to save her daughter from Cronus, Rhea brought Hera to the Land of the Hesperides. With the years Hera grew up to be a woman so beautiful, even the birds and beasts stopped their action to admire her whenever she passed by. But Hera wanted to be a goddess. So when Zeus came to propose to her, promising her to make her the queen of all gods, she accepted and went with him to Olympus, where she married him.
Today Hera is seen as the goddess of marriage and queen of the gods.
AMENITIES
Fridge
Oven
Nespresso Machine For Coffee And Tea
Ceramic Hobs (Induction Hob)
Kettle
Toaster
Fraper Mixer
Microwave Oven
Washing Machine
Steam Iron With Ironing Board
Hairdryer
Closet
Mop
Broom
First Aid Kit
Fire Extinguisher
Fire Alarm
Electric Lock With Entry Card
Safe For 17″ Laptop
Air-conditioning in all rooms
Inverter And Radiator Heating
Full Hd Tv (Flat Screen)
Free Wifi
Private Parking
Luxus Mattress By Candia Strom
Generator In Case Of Power Outage
Water Tank In Case Of Water Outage
Towels
Toilet paper
Drying rack for clothes
Garden furniture
Electric shutters
Mosquito nets
Whirlpool pool
Luxury sunbeds
Kitchenware
Satellite channels
Vending machine for drinks and snacks in the pool area
Queen-size bed with "Candia" luxury mattress (160 x 200 cm)
2 Queen-size beds with "CANDIA" luxury matresses (160 x 200 cm)
Sofa bed